Better Meetings with MeetGeek in 2023: A Personal Review

Navigating the world of video meetings as a professional can often feel like trying to catch water with a sieve. So many important details can slip through the cracks, leading to inefficiencies, misunderstandings, and a sense of lost opportunities. One area of pain for many hosts is documentation, but it's really one of the most important pieces to any meeting.
Discover amazing products from our incredible partners! When you purchase through our links, we may earn a referral payment at no extra cost to you. Check our Disclaimer for details.
However, there is hope in the form of AI note-taking software. This new breed of tools aims to revolutionize how we conduct and document our video calls. By leveraging the power of artificial intelligence, they promise to streamline meeting processes, capture crucial details, create meeting minutes, and help us mine key insights from our conversations.
One such tool that caught my attention recently is MeetGeek. MeetGeek is an AI meeting assistant package that takes notes, captures tasks, transcribes meeting recordings, and generates meeting minutes. This AI assistant makes measuring and sharing meeting insights with colleagues or business clients easy. It could also be extremely valuable for capturing customer feedback.
After experiencing MeetGeek firsthand, I'm excited to share key insights about this intuitive and efficient platform. MeetGeek takes the pain out of documentation, automatically video records, transcribes, and summarizes everything said, so you can focus on the conversation without worrying about taking notes.
But MeetGeek is much more than just a simple transcribing tool. Its AI-powered algorithms allow it to identify and highlight key points during the discussion and suggest follow-up actions based on the conversation. It makes it easy to review the most important parts of a session without having to wade through long transcripts.
Overall, I was thoroughly impressed with MeetGeek. I think it could be a valuable tool for anyone who spends much time on video calls. In my detailed walkthrough and review of MeetGeek, I cover everything you need to know about this cutting-edge platform, from its features to its pricing and more.
Pricing
As of this review, MeetGeek offers four tiered subscription plans, each with monthly or annual pricing, offering plenty of flexibility for any budget. Whether you are a solopreneur or a Fortune 500 company, MeetGeek has a plan that will meet your needs.
Basic
Free
For professionals just getting started
Pro
$15/mo
For professionals and small teams
Business
$29/mo
For innovative teams and businesses
Enterprise
Custom Pricing
For large teams that need customization solutions.
I especially like the level of functionality offered in the free Basic plan. It's ideal for testing software out on behalf of a larger organization or just a single person running out of a home office.
Initial Setup
MeetGeek's initial setup couldn't have been easier. The platform's step-by-step instructions were expertly designed, clear, and non-intrusive. Each pop-up helpfully walked me through all the necessary steps to get started quickly and efficiently.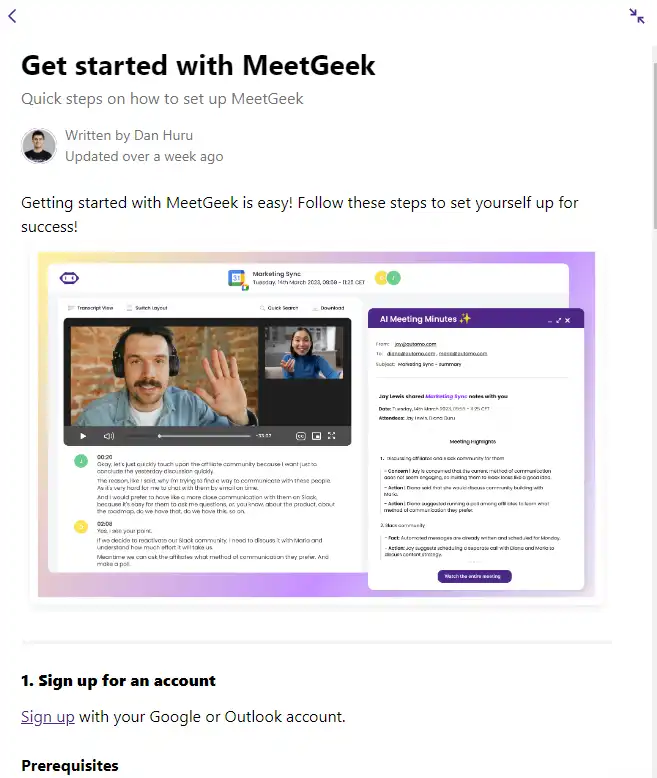 I was particularly impressed by the ability of MeetGeek to sync with both my Google and Outlook calendars. This extra effort made maintaining my preexisting organizational system simple while transitioning to MeetGeek. It showcases how commitment to the user experience can cut through the market noise.
What's more, MeetGeek is compatible with all major video conferencing platforms, including Zoom, Google Meet, and Microsoft Teams. This compatibility is a testament to the platform's versatility and reach. It's this type of adaptability that sets MeetGeek apart from its competitors.
How it Works
When a scheduled video call begins, the host will get a request to join from the MeetGeek AI meeting assistant bot, just like any other attendee. Once the MeetGeek bot is admitted to calls, it immediately announces in chat that it records the call in order to take notes. I value the announcement because it helps comply with local laws, and it's just sensible to inform participants they're being recorded. Complying with legal obligations is a must, but beyond that, transparency is always key.
At first, seeing an additional attendee in my online video calls was a little strange. Still, it only needs to be explained once. Plus, you can give the bot a custom name and choose from the titles: Bot, Notetaker, VA, or Assistant.
Suppose you forgot to invite the MeetGeek bot. In that case, you can paste the invite link directly into the MeetGeek interface or email the AI Assistant to have the AI assistant join on the fly.

Shortly after your call is finished, you will receive an email letting you know that the AI meeting minutes are available. You can also log directly into MeetGeek to get your minutes,
User Interface
At first glance, MeetGeek greets you with a simple yet sleek interface. The intuitive layout, with a sidebar containing ten items grouped under four main headings, instantly puts you at ease when navigating.
You'll appreciate how the titles – Meetings, Automation, Analytics, and Account – provide an intuitive roadmap to the platform's functionalities, ensuring you'll never miss out on what MeetGeek offers. The sidebar's clarity and ease of use make using the MeetGeek platform a breeze. If you're looking for an effortless and seamless documentation experience, MeetGeek is the way to go!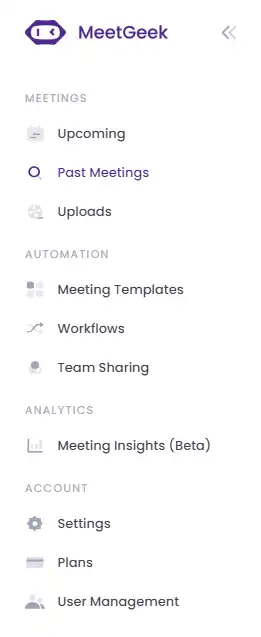 Meetings
Under 'Meetings,' I found three subheadings: Upcoming, Past Meetings, and Uploads.
Upcoming
The 'Upcoming' section can be considered the hub of all operations in MeetGeek. After syncing your calendar, this screen gives you a detailed view of all your scheduled calls with utmost customizability. For instance, you can record and summarize all your meetings, only the ones you host, or even stick to per-call controls.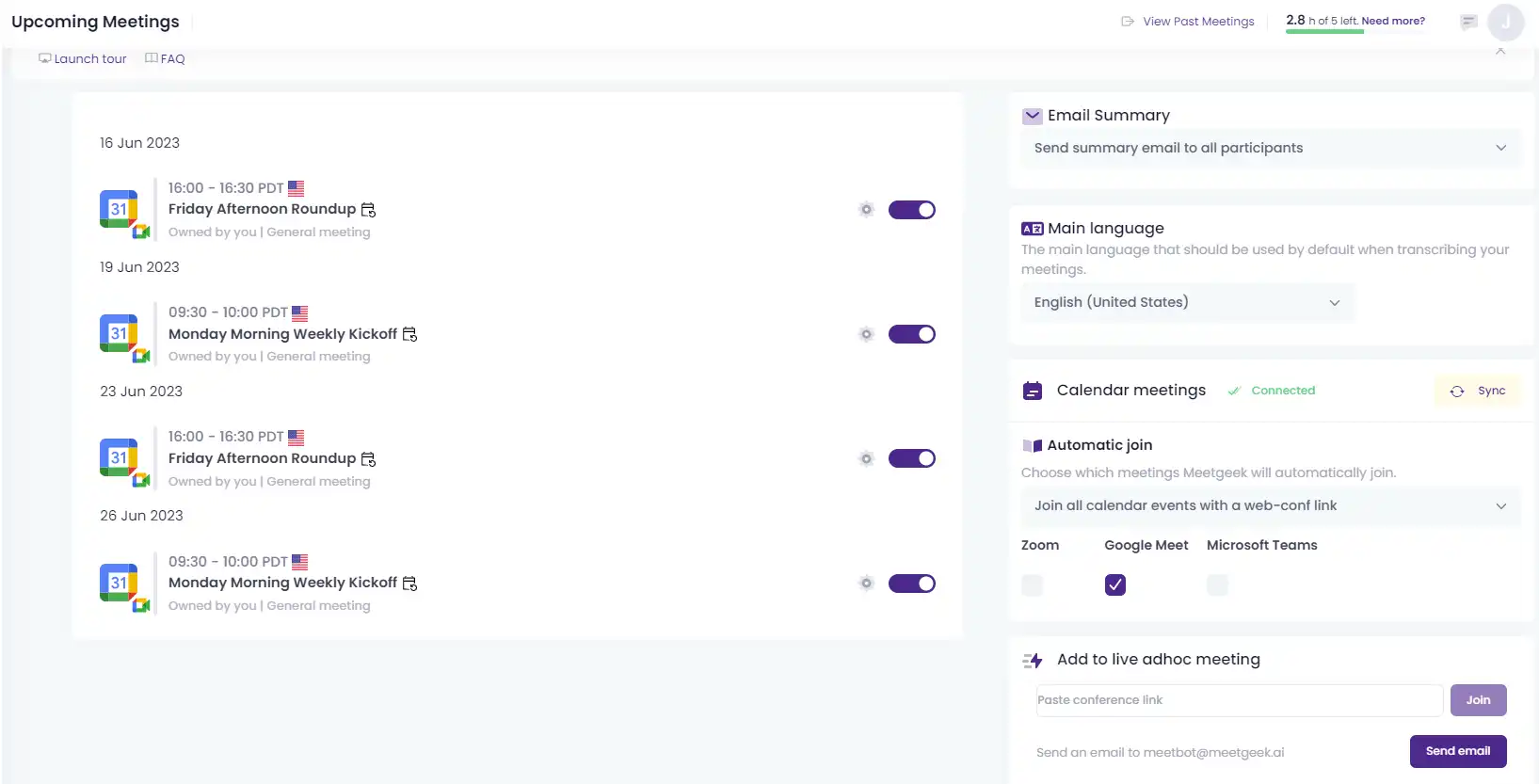 Moreover, the convenience and control factors have been taken care of by adding features like choosing who should receive the summarized notes and ad-hoc recordings by sending an invitation to the MeetGeek bot email address or directly pasting an invitation link. This level of fine-tuned detail and user control makes MeetGeek stand out.
Past Meetings
The 'Past Meetings' section serves as a useful resource to access a comprehensive archive of all your previous meetings. Here, you can review an array of generated outputs ranging from basic information like the names of attendees and call duration to more advanced outputs such as recordings, transcripts, action items, and highlights. You can also watch the video recording and add custom notes.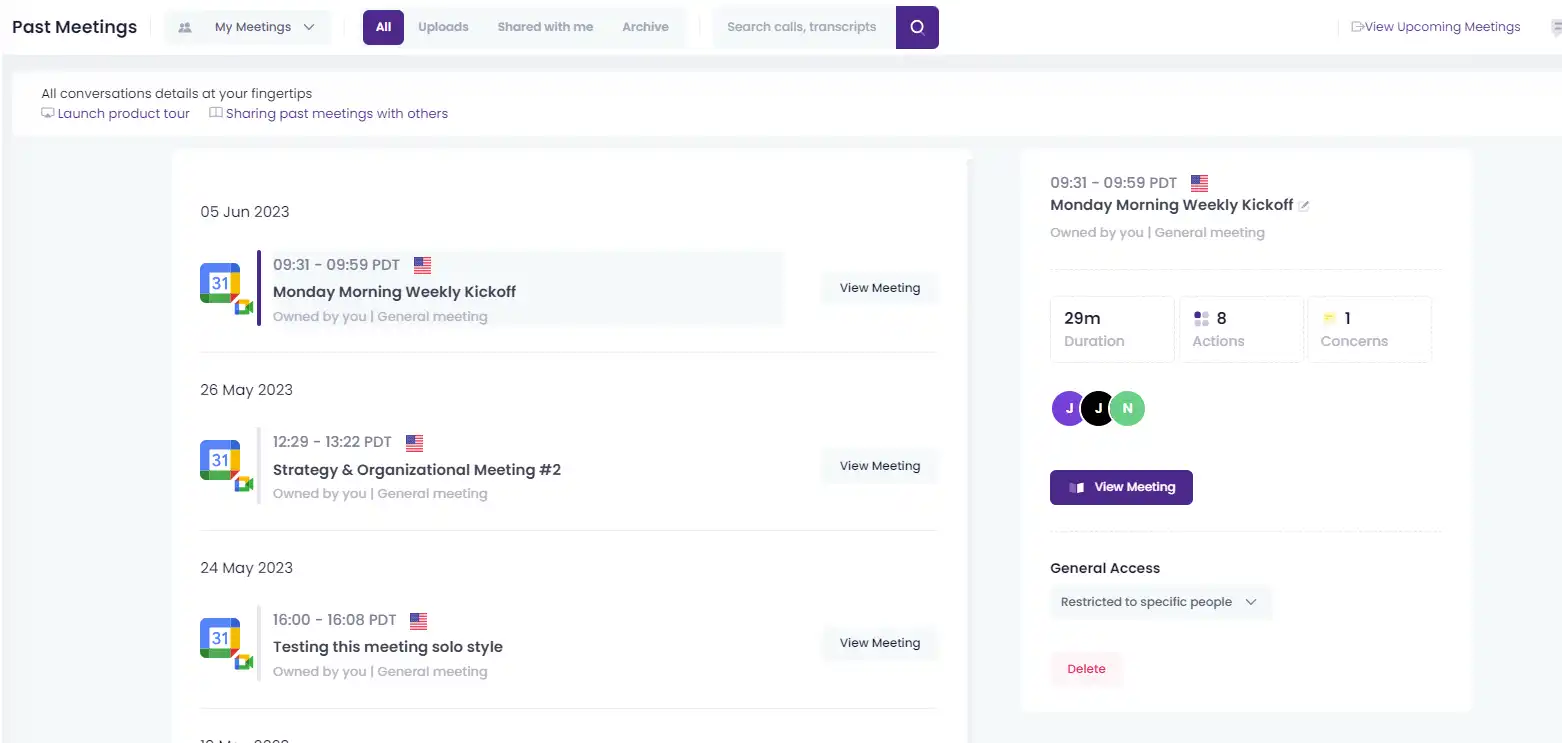 One of the most impressive aspects of this section pertains to the accuracy of the transcripts. The output remains clear and refined with AI smartly filtering out and removing "ums" and other filler words. This means you can easily review your transcripts for important moments without having to sift through unnecessary dialogue. Consequently, the 'Past Meetings' section facilitates smooth transitioning between appointments and ensures you never forget a vital point.
You can also drill down into an individual call in the Past Meetings Section. Here you can watch the video recording, read the transcript, see the summary, and check out the individual Highlights.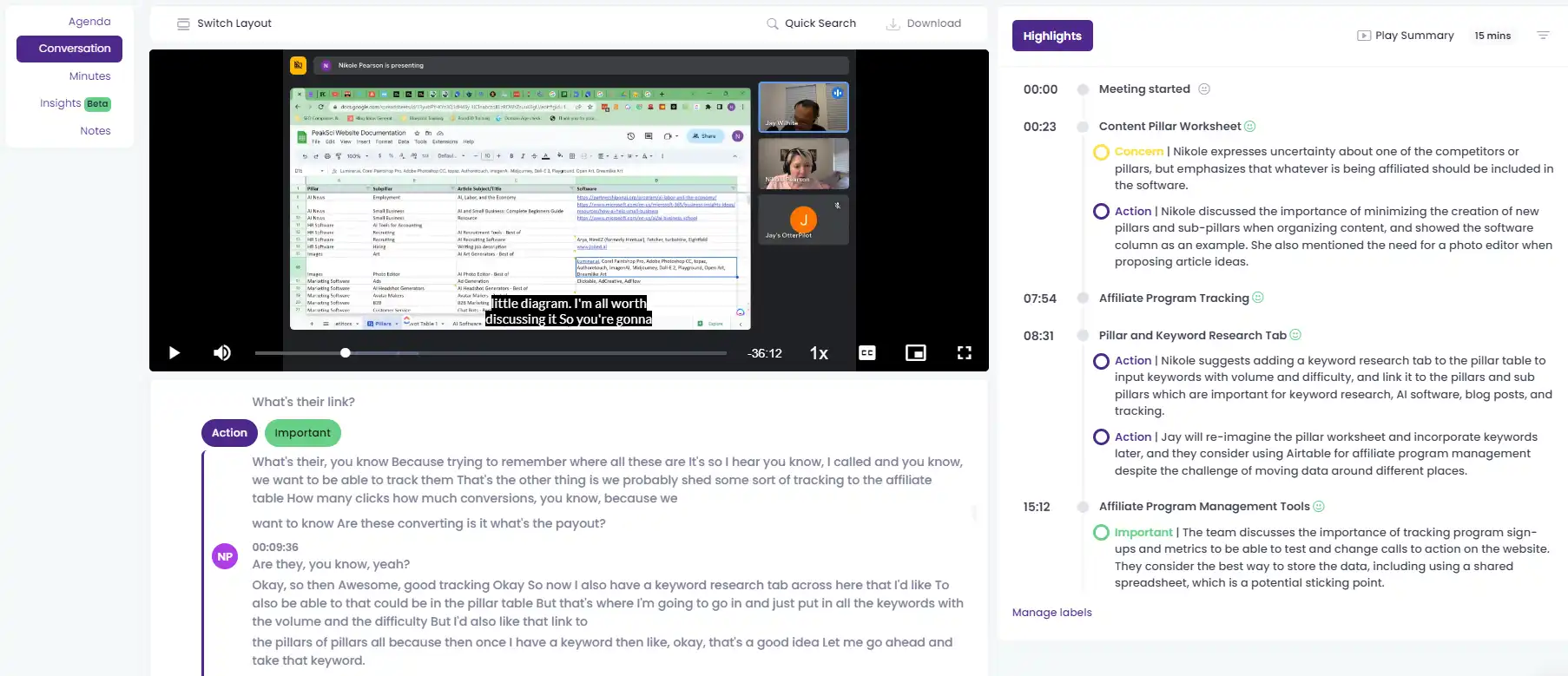 The individual recording gets its own Insights score, where you can see the overall effectiveness of the session. The MeetGeek AI also generates a word cloud to spotlight important terms that came up during the meeting.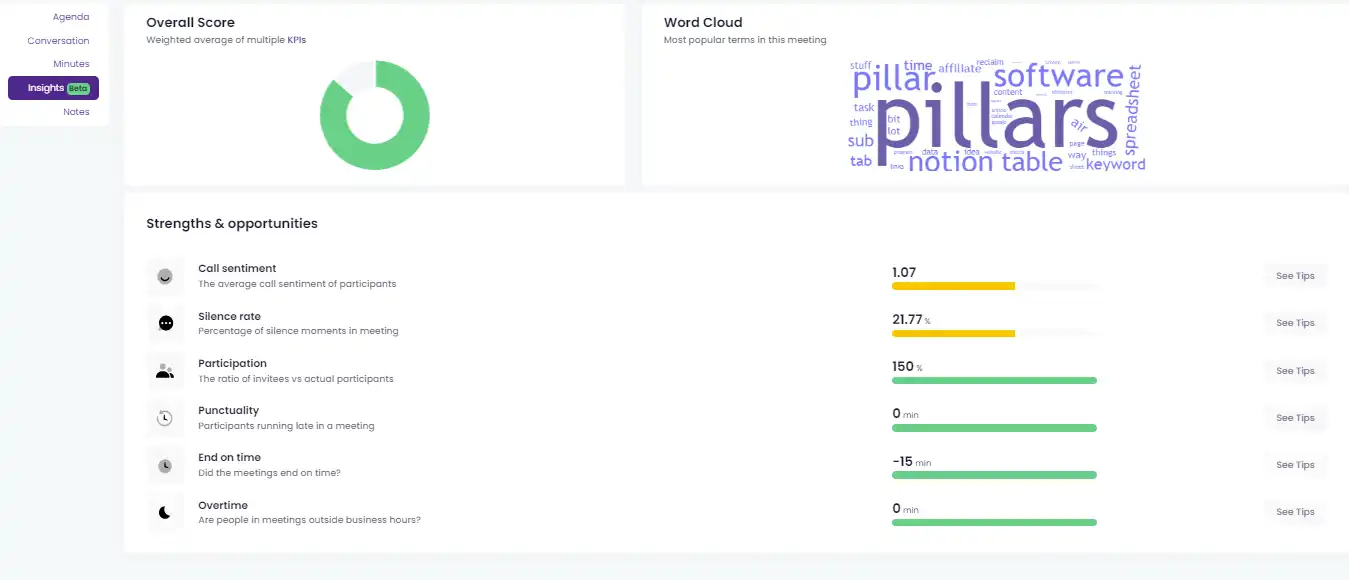 Uploads
The 'Uploads' section adds dimension to MeetGeek's functionality, allowing users to upload recordings of previous sessions. This feature takes a thoughtful approach by allowing you to reap the benefits retrospectively, making it easier to recall important details that would have been easy to forget. With MeetGeek, you never forget a vital piece of information again.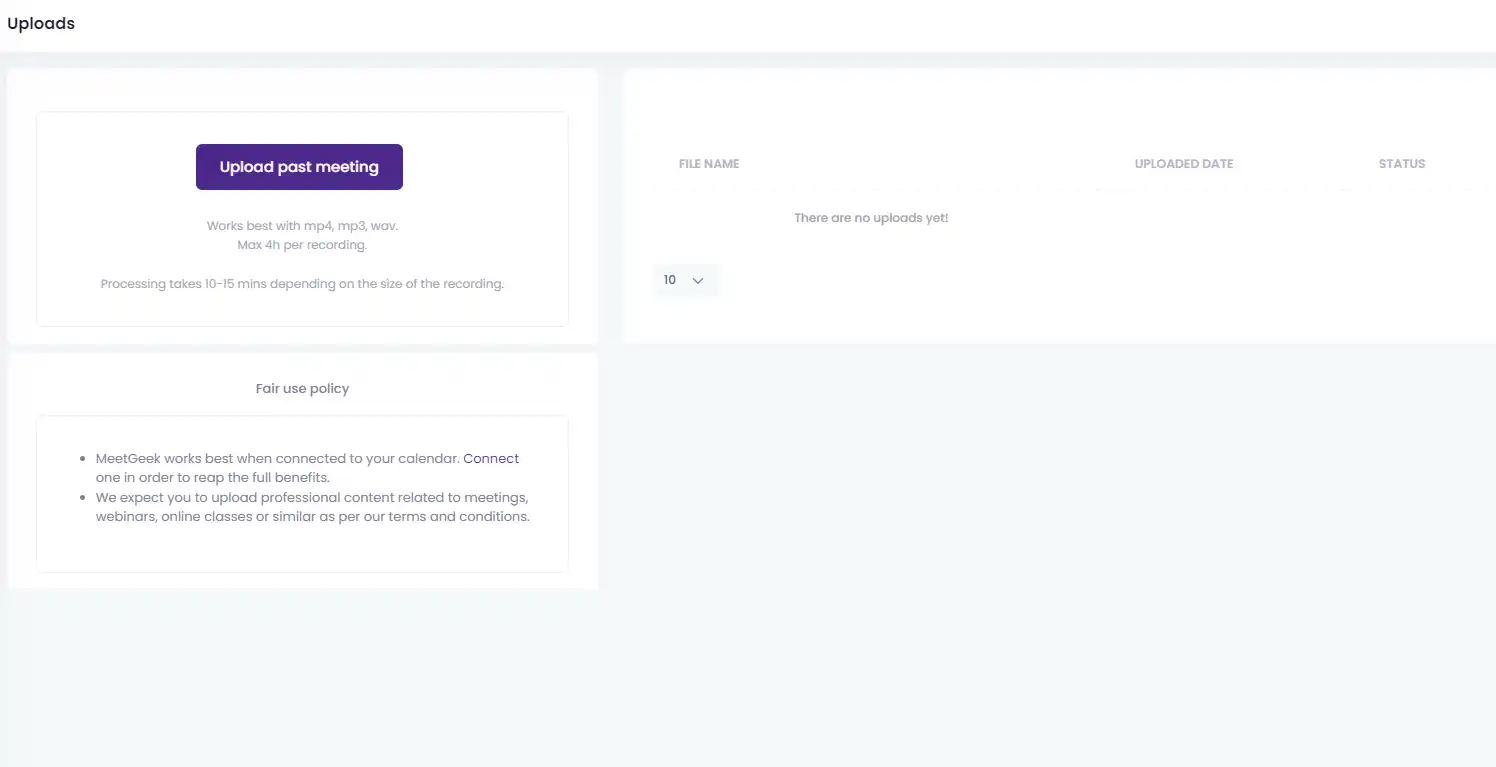 Automation
Under 'Automation,' the Meeting Templates, Workflows, and Team Sharing features offer a range of tools for streamlining and customizing your MeetGeek experience.
Meeting Templates
Meeting Templates can revolutionize the efficiency of recurring calls, providing the ability to create and customize templates. Here you can create standard agendas or customize the Highlights the MeetGeek AI will watch for.

The custom dictionary function is an absolute game-changer, empowering the AI to accurately transcribe unique phrases that are frequently used. This notable feature takes meeting summaries to the next level of personalization.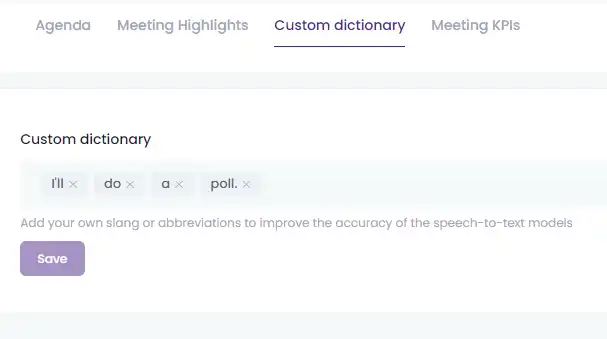 For example, in my own online meetings, the common phrase "PeakSci" was often missed in typical transcription. The custom dictionary feature automatically includes it and boosts the accuracy of the meeting summary. With Meeting Templates, managing meetings has never been easier.
Lastly, you can take control of the grading system for the Insights section by adjusting the KPIs. You can alter the metrics that will be measured and the weights of each metric for the given template.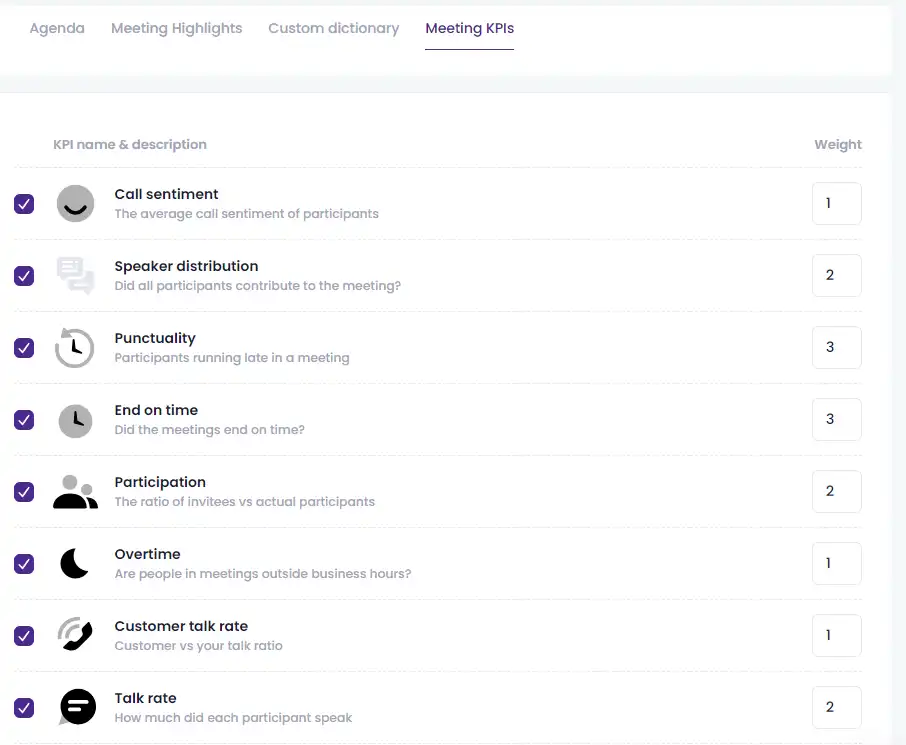 Workflows
The Workflows feature is a testament to MeetGeek's automation prowess. It allows users to post a summary automatically to integrated business platforms like Notion, making them available to your teams. Furthermore, it recognizes specific Highlights, which it can add directly to tools like Trello, significantly enhancing task management and follow-up.

Team Sharing
In Team Sharing, MeetGeek puts the control in your hands, allowing managers to define team roles and determine permissions on a granular level. The Team Sharing makes it a breeze to share meeting insights and notes with all of your teams.
Analytics
The 'Analytics' heading within the Meeting Insights feature provides valuable, aggregated data about all your meetings in one convenient location. With this overarching view, you can identify patterns in meeting activity and efficiency.
One of the most informative metrics MeetGeek provides, 'Improvement Opportunities,' offers insightful and specific tips on enhancing current meeting practices for an even more productive outcome. Take advantage of this valuable tool to maximize outcomes and increase productivity across your organization.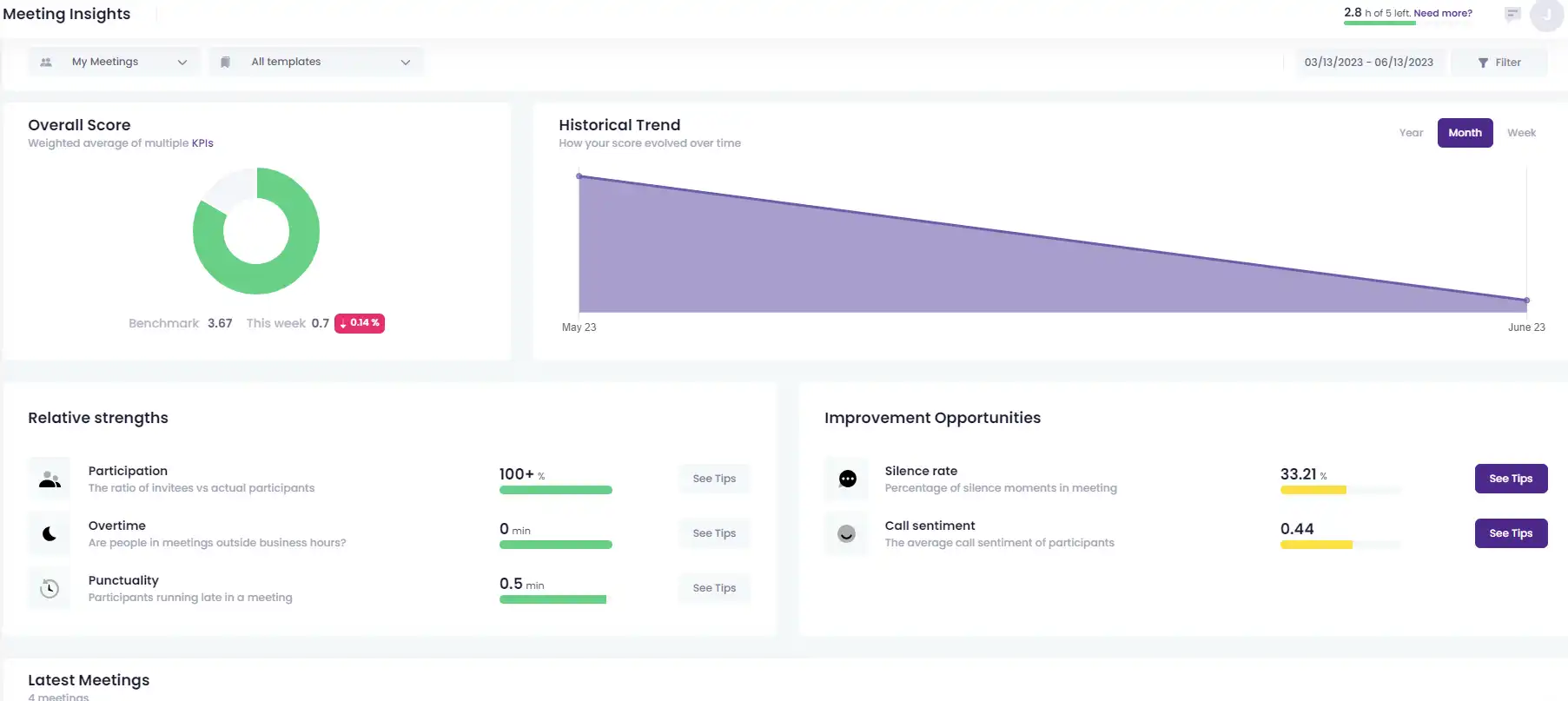 Account
Peeking under the 'Account' umbrella, I encountered three pivotal sections – Settings, User Management, and Plans. Each space caters to a unique aspect of the MeetGeek user experience.
Settings
The Settings area is the one-stop hub for all things related to account preferences and configuration. I set my preferred language and default meeting template in this section and chose my favorite interface layouts.
MeetGeek also offers the freedom to fine-tune notification preferences and determine sharing permissions. A unique touch is an option to incorporate your company's branding within the app, further personalizing your meeting experiences.
Then there's the Integrations section nestled within Settings, presenting a choice to connect MeetGeek with several third-party platforms – Google Drive, HubSpot, Slack, Notion, Pipedrive, Trello, and Zapier – with the promise of more coming soon. While the current roster of integrations is not exhaustive, it's diverse enough to cater to various use cases. MeetGeek has set the stage for a rapidly growing ecosystem.
User Management
Shifting focus to the User Management section, it's a dynamic control center for managing team interactions within MeetGeek. The options to assign roles, create groups, and set permissions, ensure a customizable experience tailored to each team member's need for information and access.
Plans
Finally, the Plans section is where you can explore and alter your MeetGeek subscription details. MeetGeek certainly makes it easy to upgrade your plan without searching all over for it.
Conclusion
In summation, it is indisputable that MeetGeek has introduced a new paradigm in meeting management tools. Despite certain areas still ripe for enhancement – including the addition of chat integration and whiteboard capturing features – the overall package delivered by MeetGeek is nothing short of remarkable.
MeetGeek's ability to seamlessly sync with multiple calendars, provide granular control over recording preferences, and generate impeccably accurate transcriptions distinguish it from the competition.
Moreover, the immense value MeetGeek brings does not stop at transcription. Its offerings encompass the full conference life cycle, from planning to post-session analysis. This is manifested through its automation capabilities that ensure smooth workflows and reduce administrative burdens and its analytics tools that offer a wealth of key points to optimize your meeting practices.
Then there are the thoughtful features aimed at providing a tailored user experience – from the customizable dictionary to the branding option – all of which add an element of personalization to the platform. Its integrations with popular third-party tools also exhibit the developers' understanding of today's interconnected tech ecosystems.
Finally, the tiered pricing structure ensures an accessible option for everyone, from individual professionals to large-scale enterprises, showcasing MeetGeek's commitment to inclusivity and scalability. And the free plan makes it easy to check out most MeetGeek features.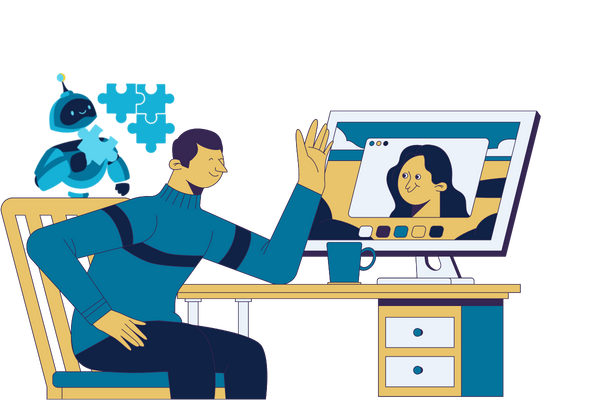 MeetGeek is not just a tool; it's an investment in productivity, efficiency, and meeting excellence. Whether you're a freelancer juggling multiple projects or a corporate executive steering high-stakes video conferences, MeetGeek's comprehensive features promise to transform how you manage and extract value from your interactions.
I encourage you to test the waters with MeetGeek. I am confident you will be pleasantly surprised by how it can revolutionize your meeting experience.