Better Meetings with Fireflies.ai in 2023: A Personal Review
Fireflies is an AI notetaker solution that helps transcribe online meetings. This innovative software solution revolutionizes capturing and organizing important information during meetings and conversations. Designed to enhance productivity and collaboration, Fireflies utilizes cutting-edge artificial intelligence technology to automatically transcribe and summarize audio recordings, allowing users to easily search, review, and share crucial insights.
Discover amazing products from our incredible partners! When you purchase through our links, we may earn a referral payment at no extra cost to you. Check our Disclaimer for details.

By seamlessly integrating with popular communication platforms, Fireflies AI streamlines workflows, improves information retention and empowers teams to make more informed decisions. Say goodbye to notetaking and hello to a smarter, more efficient way of capturing knowledge with Fireflies.ai.
On the whole, Fireflies.ai left me thoroughly impressed. I believe it holds immense value for individuals invested in extensive video conferencing. Through my comprehensive exploration and assessment of Fireflies.ai, I delve into every aspect of this innovative solution, encompassing its range of features, pricing structure, and beyond.
Fireflies.ai Pricing
Fireflies.ai has positioned itself as a competitive player in the AI notetaking software market, offering a range of pricing options that cater to different user needs. The pricing structure is straightforward and transparent, with four distinct tiers: Free, Pro, Team, and Enterprise. This allows users to select a plan that best aligns with their requirements and budget, making the software accessible to a wide range of customers.
Free
Free
For individuals starting with Fireflies
Pro
$10/mo
Best suited for individuals and small teams
Business
$19/mo
Manage your fast-growing team or business
Enterprise
Custom Pricing
For teams with 51+ members
The Free plan is an excellent starting point for individuals or small teams looking to explore the capabilities of AI notetaking with Fireflies. It offers a generous amount of features; however, it does limit the number of transcripts available. It's a great choice for a test drive, but it is too limited for extended use.
For those seeking more advanced features, the Pro plan is priced at $10 per user per month. This business plan offers a significant upgrade over the free version. It includes all the features of the Free plan, plus unlimited searchable transcripts, CRM integrations, and priority support. This plan is ideal for professionals who rely heavily on meeting transcripts for their work.
The Team plan, priced at $19 per user per month, is designed for larger teams and organizations. It offers all the benefits of the Pro plan, along with team-wide analytics, custom branding, and dedicated account management. This plan is a comprehensive solution for businesses that want to fully integrate AI notetaking into their workflow.
The Enterprise is their custom-priced offering for large teams. This plan comes with everything in the Team plan, plus custom speech models and a dedicated account manager, among other things.
Overall, Fireflies.ai offers a flexible and competitive pricing structure that caters to a variety of needs and budgets. The clear delineation of features across the different plans makes it easy for potential customers to understand what they're getting for their money. The option to try the software for free before committing to a paid plan reduces the risk associated with the purchase decision.
Sign Up & Installation Process
Getting started with Fireflies is a breeze. To begin, visit the Fireflies.ai website and locate the Get Started button, which prominently stands out on the homepage.
With just a click, you'll be directed to a user-friendly signup process that offers convenient options for registration. You can sign up using your Google or Microsoft account, simplifying the process and ensuring seamless integration with your existing calendar. Once you've made your selection, Fireflies.ai automatically links your chosen account's calendar to the software, effortlessly syncing your important events and meetings.
After successfully signing up, you'll be logged into your Fireflies.ai account and prompted to select your primary language, ensuring that your experience with the software is tailored to your preferences. Furthermore, Fireflies.ai offers an optional short demo video to familiarize yourself with its features and functionalities, providing a quick and efficient way to get up to speed. With Fireflies.ai, joining and optimizing your experience is designed to be user-friendly and straightforward, enabling you to quickly leverage its powerful capabilities for capturing and organizing crucial information.
Initial Setup items
There is very little setup that is required for Firefliesai. Choosing your linked account and main language at the startup is really all you need to do. Of course, you can go through many customizations and integrations at any point. But it is optional for the notetaking software to function.
I liked that Fireflies was so easy to use immediately "out of the box." Just invite the ai assistant to your call using the Fireflies ai email address to create your first call transcript.
My First Meeting
I started my call using Google Meet, my go-to video-conferencing application. Right on time, "Fred," the Fireflies ai voice assistant, requested access to the online room like any other attendee. Then Fireflies automatically records the call and takes notes for you. Meetings must last at least 3 minutes and at most 120 minutes for the ai meeting assistant to successfully transcribe meetings. Fireflies did not automatically notify the participants that it would record the whole Google Meet session, but I found out later that this option could be enabled.
After the Meeting
After ending my call, I received an email from Fred with a short meeting summary and a link to the full transcripts.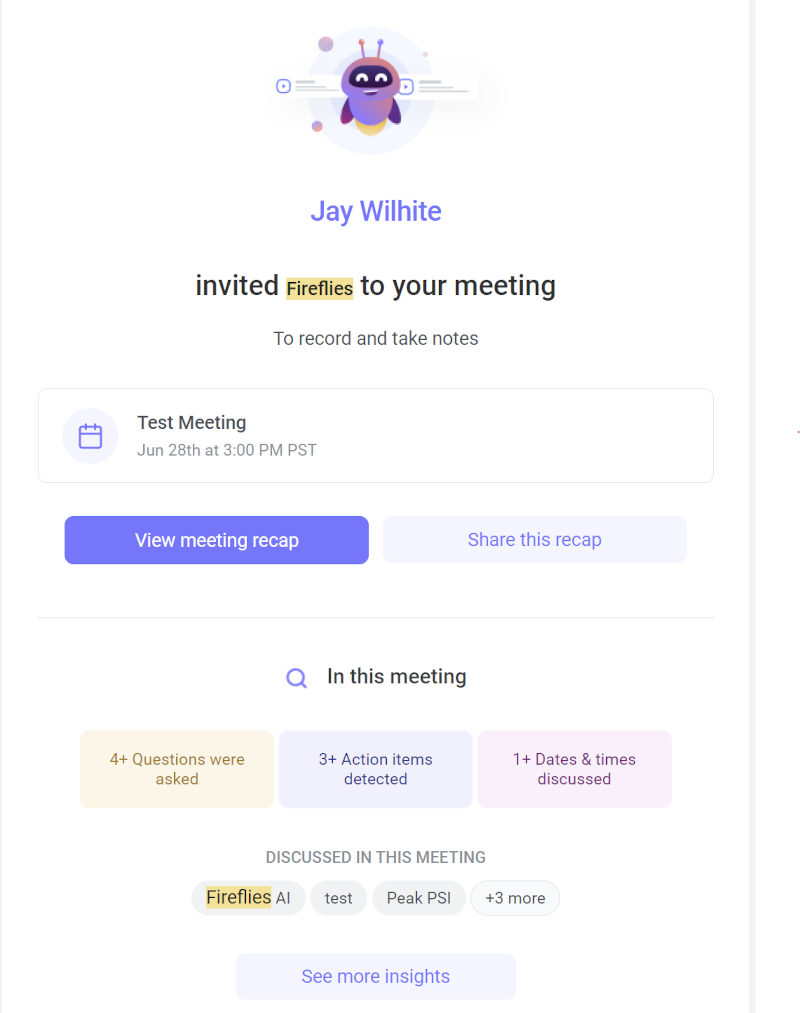 Clicking the View meeting recap button takes you to the meeting recap in the Fireflies app. The screen is divided into 3 parts: Smart Search, Thread & Soundbite, and Transcript. The audio or video recording can be found below these sections.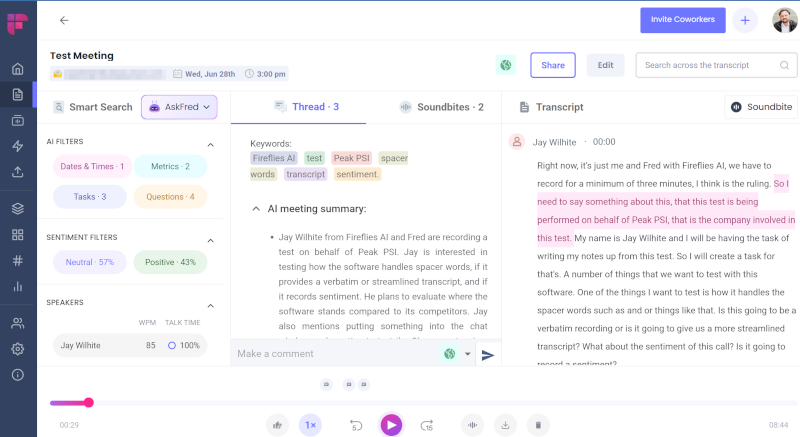 Smart Search
The Smart Search section highlights the advantages of using an AI assistant to analyze voice conversations. This section creates a searchable list of automatic filters to analyze voice conversations, such as places where Dates or Times were mentioned, or action items were discussed. This section also identifies each speaker, speaker talk time, and the general sentiment of the speakers. Clicking on any of these smart filters takes you immediately to the relevant portion of the recording.
There is also a unique feature here called Ask Fred. This is an AI dialog that will provide nearly any information you want to ask about the audio or video recording. For example, I asked the AI meeting assistant how many times a word was mentioned in the conversation. Something that could be very helpful in sales calls or brainstorming sessions.
Thread & Soundbite
The Thread & Soundbite section is where the main functionality of an Ai meeting assistant is on display. In this section, I found the following information: detailed meeting summaries, meeting outline, notes, action items, and the chat log from the call.
Clicking on Soundbite lets you save a small portion of the audio recordings, making it easy to highlight and share particular portions of the conversation.
Transcript
The final section in the meeting summaries is the full call transcript. I found the meeting notes to be very accurate. The transcripts include timestamps for detailed meeting summaries for easy reference, and you can click on any of the text to listen to particular portions of the meeting recordings. Fireflies' ability to effortlessly eliminate filler words like "um" from the meeting notes was truly amazing and greatly increases the readability of the output.
The Fireflies AI Interface
Home
Logging into Fireflies brings you to the main menu labeled "Home." Here I could see a list of my upcoming meetings. Here you can define how Fireflies will auto-join calendar events and who should receive recaps for your meetings. You can also add Fireflies meetings currently in progress or upload audio files or video files to transcribe meetings retroactively.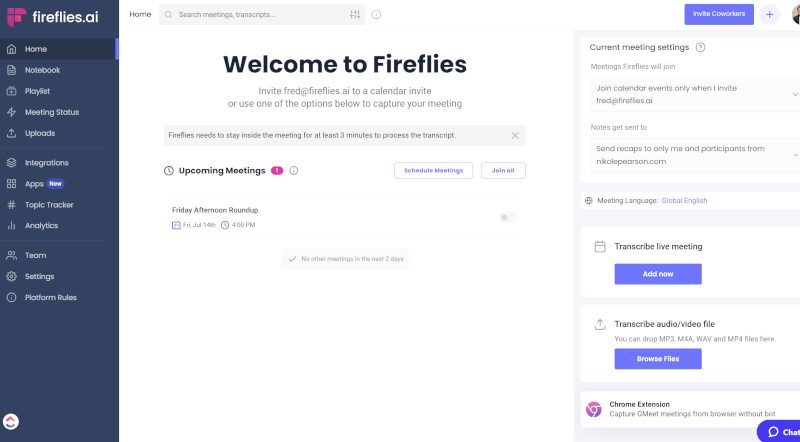 If you use Google Meet as well as the Chrome browser, then you can also get the Chrome extension that allows you to record your Google meeting directly from the browser. I'm always a fan of having as many simple ways to capture notes for my meetings as possible.
Notebook
The Notebook section shows a list of past meeting recordings and transcripts. Clicking on any of them will bring you directly to the summaries that I accessed from the email recap described above. You can also organize the meetings in separate channels.

Playlist
The Playlist page allows you to organize and group your soundbites. Each playlist can contain multiple soundbites and can be assigned permissions on an individual or team level.
Meeting Status
The Meeting Status section shows you past and ongoing meetings. Like the Notebook page, you can go directly to the meeting outline here. Unlike the Notebook section, you can also see meetings that the Fireflies ai meeting assistant could not attend. This could be very useful for troubleshooting.
Uploads
The Uploads section allows you to upload videos or audio files. You can also see the files that you have already uploaded here. Great if you need to summarize meetings that have already occurred.
Integrations
The Integrations tab is where you go to connect Fireflies ai with third-party applications. Here you will find connections to all of the leading web conferencing platforms and more! Of course, you can integrate Microsoft Teams, Google Meet, and Zoom meetings. But you'll also see Aircall, Bluejeans, and GoToMeeting, to name a few. There are also numerous connections to CRM platforms like Salesforce, project management apps like Asana, and collaboration platforms like Slack. And if Fireflies doesn't have the connection you need, you can set one up with Zapier.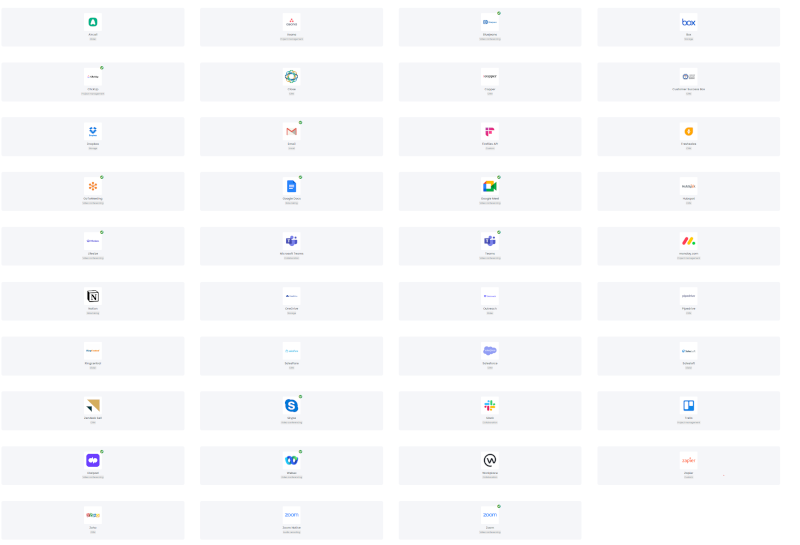 While I was happy that Fireflies offers a Chrome extension, I was disappointed that no smartphone apps are available. I often manage my calls on the run, so adding some phone apps would be a welcome improvement.
Apps
The Apps page currently has only one custom app, which is turned on by default; the General Summary. However, the interesting offering in the section can be seen by clicking on the AskFred Prompts button. Here you can see a selection of premade prompt categories to get the AskFred AI to provide detailed feedback on your recordings in specific scenarios.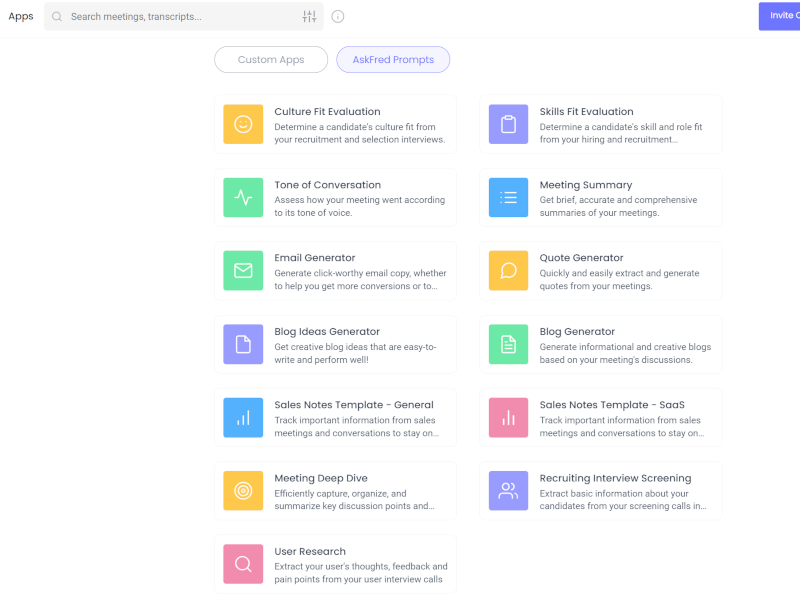 Clicking on any of these prompt categories will take you to a list of prompts designed to capture information that will help you quickly and easily retrieve valuable insights. Simply click the "Try It Out" button and go directly to the recap for further analysis.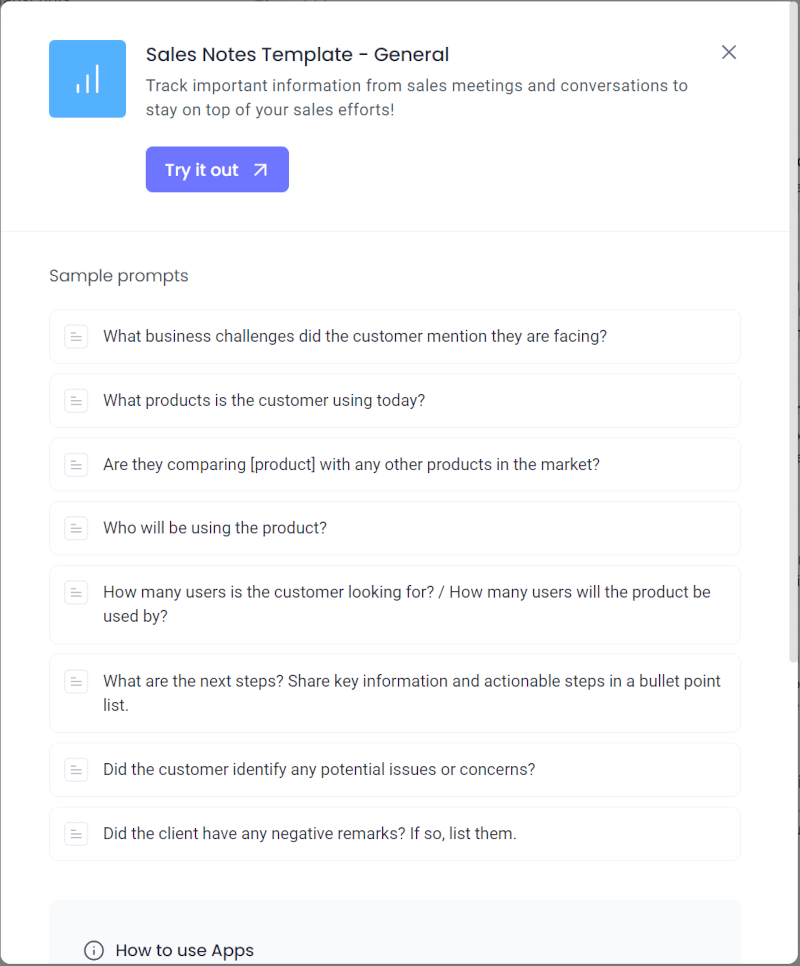 Topic Tracker
The Topic Tracker area allows us to define custom topic trackers in Fireflies. This feature can really level up AI Fireflies' conversation intelligence. Just name the topic and then include keywords associated with the topic. This feature can highlight important portions of your voice conversations and keep the notes relevant to you and your team. A default topic in Fireflies is Voice Commands. This topic includes key topics such as "follow-up," "create a task," "Fireflies please," and other similar phrases. The idea here is to give directions in real-time during the call to the AI meeting assistant to highlight areas where someone may need to complete actions. You can customize the Voice Commands or even delete them if you like.

Analytics
The Analytics section shows Fireflies does much more than simply summarize meetings. This feature gives you deeper insights into how your team interacts and comes to decisions. The analytics will include data on the frequency of conversations regarding specific topics and who said what and when, including sentiment analysis. This can be a powerful tool for understanding how your team works. It could also be a valuable tool for analyzing sales calls or recruiting interviews. You could even record and analyze online classes or training seminars and use the analytics to highlight key topics. And if you don't see the data you're looking for, a search option at the top will search through all the meeting summaries.
Team
In the Team area, you add new team members to Fireflies, promote their privileges, or remove them. You can also choose to automatically add members to Fireflies if their email addresses are connected to the same domain as yours.
This section also lets you set up team defaults for auto-joining meetings, emailing notes, recording privacy settings, and whether to record videos or just voice conversations. Personally, I selected the "Allow Team Member to Choose" option for all of these.
Upgrade
Fireflies do not make it difficult to upgrade your service. They put the option directly in the Fireflies dashboard. I don't fault them for making purchasing easy for their customers. That's just a good business plan.
Settings
The Settings area contains everything you expect to find, such as billing, security, and account maintenance. Language, email, auto-join, and security settings are here as well.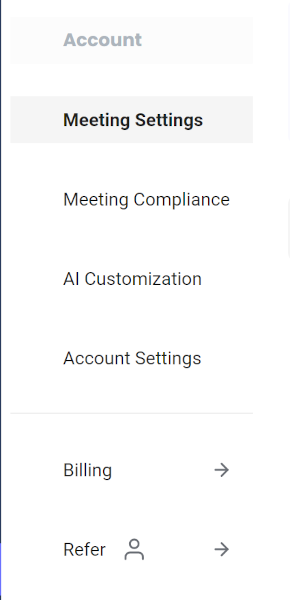 I was very impressed by some of the customization options here. Select your industry so Fireflies AI can better optimize the speech model. Define your custom vocabulary for words that may be less common in general or industry use but are very common in your company. For instance, my company uses the term PeakSci, frequently, but AI needs help understanding it. Using the custom vocabulary takes greatly increases the accuracy of our meeting notes.
You can also set up a custom notification to inform attendees about the recording. I love this option because I often find myself so focused on the topic at hand that it's easy to forget important housekeeping items at the beginning of my calls.
Platform Rules
The Platform Rules remind you to notify your meeting participants that Fireflies records all calls in order to capture the meeting summaries. This is a legal requirement in many locations and just good business everywhere. If you are as prone to forgetting as I am, set up the automatic notification option and rename the bot to include the word "recorder."
Conclusion
In conclusion, Fireflies.ai is an amazing innovation in AI notetaking solutions. By leveraging cutting-edge artificial intelligence technology, Fireflies revolutionizes how meetings and conversations are transcribed, organized, and analyzed. Its seamless integration with popular communication platforms, such as Google Meet and Zoom Meeting, makes it incredibly user-friendly and accessible to many users.
The software's ability to automatically transcribe and summarize audio recordings, advanced search capabilities, and smart filters enhance productivity, collaboration, and information retention. Additionally, Fireflies.ai offers a flexible pricing structure with different tiers to cater to individual and team needs, ensuring that users can find a plan that aligns with their requirements and budget.
With its user-friendly setup process and intuitive interface, Fireflies.ai provides a smarter, more efficient way of capturing knowledge and making informed decisions during meetings and conversations. Sign up, say goodbye to traditional notetaking, and embrace the power of Fireflies.ai.